Finally! After several months of delay! Man, where has the time gone?
Kuroshitsuji (Black Butler) Cosplay Photos
I've still got a few more to post! My friends and I found ourselves really busy in the past months, so I just barely managed to find time to pick this photo series up again. Oh man, it was so great just looking through the photos from that dhurtay again.

About the location
A lot of you have been asking about the location, and I apologize but the activity organizers and property owner have advised us not to disclose that information. I hope it suffices to say it is not really a place for simply doing photoshoots, and we were just very fortunate to be invited. The place is private property reserved for special occasions. On a normal basis, people cannot just walk in there or take pictures without an appointment or paid booking.
[bows]
So sorry!
A little backstory
A few months ago, I had the opportunity to cosplay Sebastian Michaelis from Kuroshitsuji, a series that has an aesthetic I had admired since I first saw it. I happened to be in need of a tailcoat, so I was like oh hey, I can have Sebastian's made.

I know my natural build is not the best sort for Seb as I'm not all that tall. (I get asked this a lot so — my height is 5'4". Sebastian looks about 6 feet tall at least, hahah)
We can just pretend I'm cosplaying Seb when he's drawn like this:

Yup, this is the Sebastian I most relate to.
And also...
Hahahaha!
To be honest, I was hesitant at first to attempt to cosplay someone who seems so ridiculously dashing and perfect and... is basically fangirl-bait.
So unlike me, hahah. It's like gah, I can't be like that.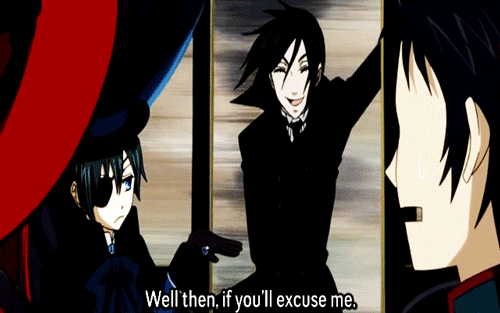 But it's this side of his character that drew me in.

(Ciel's casual reaction cracks me up)
And I suppose, in a way, we're both not quite what we seem.
I'll just leave these here...
There are still parts I want to improve on my costume, but I totally enjoyed cosplaying my favorite fictional butler that day!

Photoshoot Outtakes
As promised, here are the behind-the-scenes photos from this cospay shoot! Be warned — I have a lot of shots that are very out of character so I apologize in advance if I'm ruining Sebastian's image.

Photos by:

Erving

z3LL photography ~
z3LLLL

Peppy

Alfred ~
shimekops

Richie ~
FatBoyStudios

Jump Shot

photog|Raphy

Wally Gonzales
We started shooting at the venue in the morning. Cat ~
catherinejannelle
and I had coordinated to be Ciel and Sebastian that day. She had some things to attend to first so while she hadn't arrived yet, I took the chance to look around the place and hang out with the other cosplayers involved in the day's activity.
Much to my surprise, there was another Ciel! It was Ku Ri ~
abbadon13
. Another young master! Our photographer friends took some pictures of us together. (I'll post those soon!)
We were called to eat lunch so we retreated to the rest area. The activity organizers served us food, and I went around trying to be a butler but everyone just kept laughing when I tried to serve them.

And so I focused on
torturing
my bocchan.
"Young master, today we have prepared a dish of birthday spaghetti that has been cut into bite-sized portions for your convenience. There is a side of chicken that has been prepared in a manner that appears to be reminiscent of spherical confectionaries set on sticks. We have brought out the finest styrofoam containers and plastic utensils to accompany your meal."
"For refreshments, there is iced tea made from mixing powder with water, and purified water in a utilitarian plastic cup."
"To grow up to be a fine gentleman, you must accustom your palate to flavors unlike those from home that you are accustomed to."
"I implore you not to make this more difficult than it has to be, because one way or another, I shall fulfill my duty to ensure that my young master's nutritional needs have been satisfied. WITHOUT FAIL."

Our tablemates Yuu ~
jaRoukaSama
and z3LL ~
z3LLLL
brofist! So cute

Sese *
seseostara
and Alfred ~
shimekops
having a ~moment~ at the table.
Th-there were puppies...

One of these things, is not like the others...
Eventually I sat down to eat as well, and for a short while our table was peaceful.

I'll post photos of some of the people I got to hang out with that day. There were actually many others there but I don't know if they would mind me posting their pictures.

Ella as Edea from Final Fantasy VIII
I asked her about how she made her props because it looked so lightweight yet sturdy. I have much to learn!
Edea taking self portraits on her cellphone

I kept trying to make Ayumi laugh while she was doing her serious poses.

Nichole as Amy Sorel from Soul Calibur
Despite how she looks like she could beat me up in this photo, she's actually really sweet. Her mom is too. She even made Amy's sword for Nichole.
Epic Ironman cosplayer DonRobert, half of
DR Industries
.
I was just so amazed. I have no words. Apart from making fantastic costumes, both he and Izabel also have a great sense of humor. Such a great tandem.

I'll just leave it at that, with some pictures from DonRobert's shoot with Mr. Raphy.
After lunch, Ms. Barbara called us outside to invite us to shoot with Wally.
I can't take myself seriously in this photo.
I am trying to convince the Young Master to try out an alternate mode of transportation.
"I implore you to trust me, bocchan. How could I call myself a servant of the Phantomhive household if I could not manage to operate such a simple vehicle?"
GTA: Victorian Edition
FORNICATE THE CONSTABLE
"Now that wasn't so bad, was it?"
[smile]
"Hmph."
Yuu ~
jaRoukaSama
as Miku Hatsune. Y YUU SO CUTE
I like how the details in the backgrounds match her hair.

Sese *
seseostara
as Julia Chang from Tekken
Such a trooper! Climbing up those trees in her costume!
Peppy calls this shot... FAN SERVICE
So much pun!
And then Cat ~
catherinejannelle
arrived! And I had two masters for the day!
(Oh no...)
"I'm simply one hell of a pimp"?

And we went back to the ballroom to shoot a bit. Yuu is the cutest lightstand.
We actually took a bunch more. One of them, I have yet to post in my gallery (which I shall get to soon).
Here's a photo from Cat:
Erving is everyone's daddy.
You know those photos of us on the gondola?
If you were wondering how our photographer friends managed, here is the answer:
There was a little pedal boat for photogs.

This shoot was very relaxing.
By the time we retreated to the rest area again (the air conditioner was such a blessing on such a hot day) it was time for afternoon snacks.
Of course there had to be feeding photos again. This young master is not as stubborn.

We scolded Ku Ri for being antisocial. XD
[takes PSP away]
And then... my secret. I had a symbol on my hand that day, but not Sebastian's seal. It's a fabulous rainbow phoenix LOLOL
I had this because I attended a birthday party the night before. Everyone needed to get (fake) tattoos. They got tigers and dragons and flames and all sorts of manly things. I got a fabulous rainbow phoenix. With flowers.
A photo shot with the most awkward setup of the dayyyyy
TA-DA! Camera between my knees. Told you it was awkward.
Night fell, but we weren't done exploring as much of the beautiful place as we could. So off we went to venture out in the dark with Erving's lighting stuff.
We found a vehicle labeled the wedding car. It looked like those cable cars in San Francisco. It was open, so we trudged in and took the chance to take pictures.

"I'm simply one HELL of a driver!"
Sorceress Edea
Somebody gunna get hurt real bad
One of Erving's lightpainted photos

It's really cool to see how he does these things.
The light spheres were not edited in. Only cropping was done to this photo.
Ciel selfcest. Just because.
I see a heart shaped formed by their heads and the white parts of their clothing.
Erving will position himself however needed to get his shot.
Hi, Erving. We know where you live.
Behind-the-scenes shot by Peppy again. XD
A pensive Ciel.
"Ah, I must wake the Young Master."
"It's amazing how even he can look peaceful when he is sleeping. Humans are certainly curious creatures."
You have no idea how hard we were containing our laughter
Such a great day! Lots of memories full of magic, delicious mint chocolate shakes, and warm fuzzy feelings from new friends.

Our real and only public Facebook pages
The usual reminder that these are our real pages!
My individual page:
Just click on the "

Like" button on my page and you'll receive my updates on your Facebook feed.

Our page for
Tuxessories
:
We're still figuring out what fun stuff we can do here. For now, you can Like the page if you want us to keep you posted about new designs, available stock status and shipping updates.

dWarped Journal CSS is based on the Warped template design by Six Shooter Media. It's avaliable here at deviantArt under the Creative Commons Attribution v2.5.