Group cosplay, forever alone style! Yeah, that's all me.
In this post, I'll get into how I did each one!
Intro, and some bad old pictures
For those of you who have the patience to read for some extra info!
When I started cosplaying, I didn't think makeup was such a major part of it. I was so hesitant to even put eyeliner because I'd think, "This character is a guy, I shouldn't look like I'm wearing makeup!" And I guess I was silly enough to think I looked enough like the characters I chose without doing anything to my face?

I can't find more pictures of my really old cosplays (which is just as well, hahah) from the time I didn't want to use makeup apart from these:
I cosplayed as Haku from Naruto. I don't remember wearing any makeup for this. It doesn't show too well on these pictures but I saw some others where the natural redness of my lips made it look like I was wearing lipstick even if I wasn't. I felt it made me look more feminine than I should. Haku is still a guy after all, but it wasn't too bad because he's supposed to look like a trap. Still, I made a mental note then to do something about it when cosplaying manlier characters.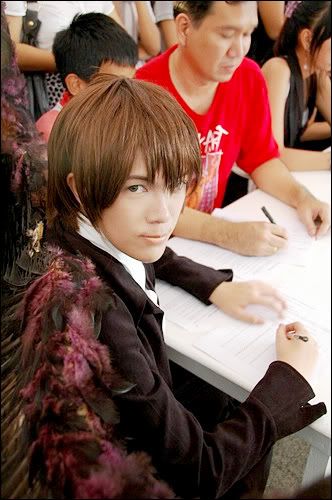 When I did Light Yagami from Death Note, I learned to use concealer and foundation powder to even out my skintone. I also used a skin-colored lipstick to neutralize the reddish color of my lips. I didn't really want to use eyeliner around this time.

I think it was cosplaying Naruto that really got me to take makeup more seriously because he looks really different from how I naturally look. I had to wear a blond wig for the first time, so I didn't feel right with my black eyebrows. He has big eyes with a very pronounced shape so I had to try simulating that with eyeliner. And of course, the characteristic whisker markings on his face.
It depends on the character too, I think. I generally use more eyeliner and try to go for a really even complexion for anime characters to emulate the look of the 2D art without taking it too literally. But for movie/book cosplay, I take a different approach.
Take my Harry Potter cosplay, for instance. I kind of mixed the book descriptions for Harry with Daniel Radcliffe's depiction of him in the movies:
I skipped using concealer because Dan has pronounced eyebags, which works for Harry's character (being constantly troubled and tormented and trying to save the world and all). I also gave special attention to the eyebrows and tried to shape mine like Dan's. I often get asked about how I do my eyebrows.
I use a brush with stiff, angled bristles. I take whatever pigment I have on hand, such as eyebrow pencils or powdered eyeshadows in different colors, then use this to draw on my over my real eyebrows. This kind of brush makes it easy to control the shape and apply the pigment in a way that the edges aren't sharp so it looks more natural.
So that's probably a long enough intro for this post! Hahah! Bottom line: Makeup is cool because it helps you change the way you look. And that's part of what's fun about cosplay — Being able to transform yourself from the way you usually look.
I'm realizing now that I don't have a lot of "normal" photos but here's one of me with no makeup and no contact lenses, for the sake of comparison. (I'm nearsighted so those are my prescription glasses)
Free! Cosplay Challenge
One day I thought it'd be a fun exercise on flexibility to cosplay different characters from the same series, all by myself. It would be an amusing way to illustrate how angles, expressions and makeup can help one person depict different characters. Using only the wigs and clothes I have at home, I decided to try cosplaying the main characters of the anime, Free!
Haruka Nanase
His eyes are narrower and angle upwards more than the other characters.
His face is usually indifferent.
Here is myself as Haru
This is how I did the eye makeup, which is a little different from my usual style. Eyeliner makes such a big impact on giving your eyes a different shape.
I also chose a vibrant blue lens because Haruka has bright blue eyes that contrast with his dark hair. The lenses I used are the Ocean Blue Cosplay Lenses from Alice and Rabbit's Shop, where I get most of my lenses.

Here's a clearer shot of the lenses, and also a look at my eyes when they're lined differently.
I based the clothes I wore on one of Haruka's casual outfits. I'll be basing my Makoto look (coming up next) on this outfit here too.
Makoto Tachibana
Although his height is intimidating, he always has a kind look on his face. He has the classic "
tareme
" / droopy puppy dog eyes that indicate a gentle person.
Here's my take on Makoto. I didn't have a kitten like the one he's seen with but I do have a puppy.
I usually downplay my eye creases for cosplay, but this time I added some shading on top to emphasize them. I also drew my eyeliner downwards to mimic Makoto's eye shape.
The eyebrows were kind of an extra challenge for me since Makoto has really kind-looking eyebrows that curve upwards towards the center, while mine naturally angle downwards (which usually lead people to think I look mean). I kind of imagined Mako to have thick eyebrows so I rolled with that. I draw them extra thick on the top part near the center to fight against the downward curve of my real eyebrows. Then for the photos, I raised them up (like the way you would when you're surprised, hahah) to give a kinder facial expression. This also helped make my eye crease more visible.
Most other lenses that are opaque enough to show on my dark eyes are in a blue-green shade, like this one:
The pattern of this also looks like it would be better suited for a more intense and aggressive character. I don't know if most people would think I'm crazy for taking that into account, but I do like to consider the pattern when choosing contact lenses for a character.
I was looking for blue-green lenses for Eren Jaeger (from Attack on Titan) and this one had a good color but I don't think the flower pattern suits him all that much. Don't you agree?

Nagisa Hazuki
Resident shota, LOL. He's the smallest and youngest-looking of the bunch. Energetic sparkly personality.
This was very difficult for me.
It's hard to be shota, bro. I struggled. And I kind of want to punch myself for making these faces. Doing this hurt me a little. Ahahahah! The way Nagisa acts is just really a stretch from how I actually am.
I made my cheeks look rounder with the way I smiled. I describe it as pushing my face meats up by giving a tight smile. This also made my upper lip look thinner, which I guess kind of works for Nagisa. I don't know if this will work for everyone, but the point is to observe how certain facial expressions affect the shape of your face, and use them to your advantage when you can.

I made the eyeliner rounder and softer at the outer edges. I used a pencil liner for the outer corners so I smudged it a bit for that softer look. I also put some highlighting pigments around the eyes for extra sparkly wide-eyed youthful uguu shota join-the-swim-club-or-I'll-cry feels. My descriptions are so technical and pro.
But okay, to elaborate properly (sort of) I think the highlights around the eyes helped a lot because it downplays the shadows on my face. If shadows make features look more sunken, then theoretically, highlights should do the opposite.
Nagisa's eyes are in a complicated sort of magenta shade. I compromised by using my
Crystal Max Red Lenses
. Although they are technically red, the shade is dark and the larger-than-usual size of these lenses gives the glowing crescent effect on the bottom of my irises. The halo effect comes out pink, so they worked okay for Nagisa.
To explain the halo effect:
The coloring on the Crystal Max Red is semi-transparent, so it lets the white part show through a bit at the bottom. This is also why the lens diameter is important. I think the average diameter for irises are about 14mm. The lenses I used for Haruka and Makoto are 14.2mm, so they're only slightly enlarging. These ones are 14.8mm in diameter.
Rei Ryugazaki
He has somewhat rectangular-shaped eyes and is easily disgruntled, hahah. He normally has a serious look about him (which doesn't reflect what he's actually like).
Apart from the eyeliner style, I didn't have to change much for Rei, so this section will be relatively short.
Here's an outline of the eyeliner shape. I extended it past the normal length of my eyes. It feels a little weird at first but it looks fine from a moderate distance.
It's kind of like what I did on the upper left photo:
(And here are other examples as well of how I line my eyes for different cosplays)
The lenses I used are
Crystal Max Violet
. They have a nice lavender shade that fits with Rei's eye color. Again, my eyes are very dark brown (which looks black when not in direct sunlight) and they show up well on me.
Lastly, Rin Matsuoka
I usually end up cosplaying the protagonist, so I was excited and anxious to attempt Rin, who is completely different from characters I'm used to portraying.
Jin as Rin. Hahah! It looks like I have Rin's school uniform, but that's actually the top I used for my Ulquiorra cosplay!
If you're wondering about the teeth: Those are my natural teeth. They're pretty strangely shaped (but I like them) and I'm just not used to smiling with them, but I decided to show them off this time because it's character-appropriate!

See? They are pointier along the sides so I angled my face so they'd be more visible.
Look at all those scribbles! I did some crazy things to change the look of my eyes. I drew my eyeliner extra thick to cover up my natural crease, then I drew on a fake crease which to me looked more like Rin's. I also added some shading between the crease and my eyebrows to make it appear more realistic. You have to pay special attention to how they look at certain angles and expressions though, especially if you are posing for photos. Notice how in the left photo on the two pictures of me as Rin, the eye creases look a lot smaller than on the right where I raised my eyebrows a bit and shot from a lower angle.
Half my eyebrows here are drawn on, because I wanted them to angle upwards to look extra mean. I used Kryolan eyebrow wax to flatten half my eyebrows then piled concealer on top to hide them. Then I drew on the other half with a cream pigment from my Ben Nye wheel, using an angular eyebrow brush.

The lenses I used for Rin were the limited edition red prescription lenses from A&R. I chose these instead of the red ones I used for Nagisa because it's a brighter red, which is like Rin's eye color. The diameter is also smaller, so it gives my eyes more of a mean look compared to Nagisa's big sparkly eyes.
Closing notes
Now, I've never been properly trained in makeup or anything like that, so this is all just coming from someone who learned to use makeup by thinking of them as drawing materials. (Eyeliners are like ink brushes or colored pencils, eyeshadow is like chalk pastel, lip pigments are paints, etc.) It is questionable if my methods are correct, but I just wanted to share how I go about things and I thought it could serve as a guideline for you guys to think of how to manage it for yourselves.

These techniques will also work differently for people with different eye or face shapes so it's best for you to experiment on your own face or with your friends. It's fun!
The amount of makeup you use, and how you want to interpret features on anime characters is entirely up to you. Everyone's got different preferences. Like some people find drawing the eye crease weird, but it works for some people. But it's all really up to you!

You just have to try things and find a look that you feel comfortable with. And don't judge yourself until you've got your wig and everything on and have finished the entire look, because I certainly felt like a fool in the middle of doing some of these. By that I mean Rin
It was a fun challenge to take on, and I hope to try it with other series!
Other places to follow my updates
I don't often get to post here lately because I use my gallery here mainly for proper shoot photos and we'll be doing that later in the year so it's pretty quiet here right now. My friends and I are still working on our new costumes! If you want to follow our progress, cosplay previews, or random shenanigans, I suggest you follow me on Facebook where my snapshots usually end up! It's a lot easier to update there from my phone too so I get to update regularly.



Tweet me!

twitter.com/skybluedays
On Wednesdays I do live tweets of my reactions when a new Naruto manga chapter is released
On Thursdays I do live tweets of new episodes of Free!

Art blog!

jinjoson.com

Tumblr

behindinfinity.tumblr.com

Instagram: @jinjoson


Links